Frequently Asked Questions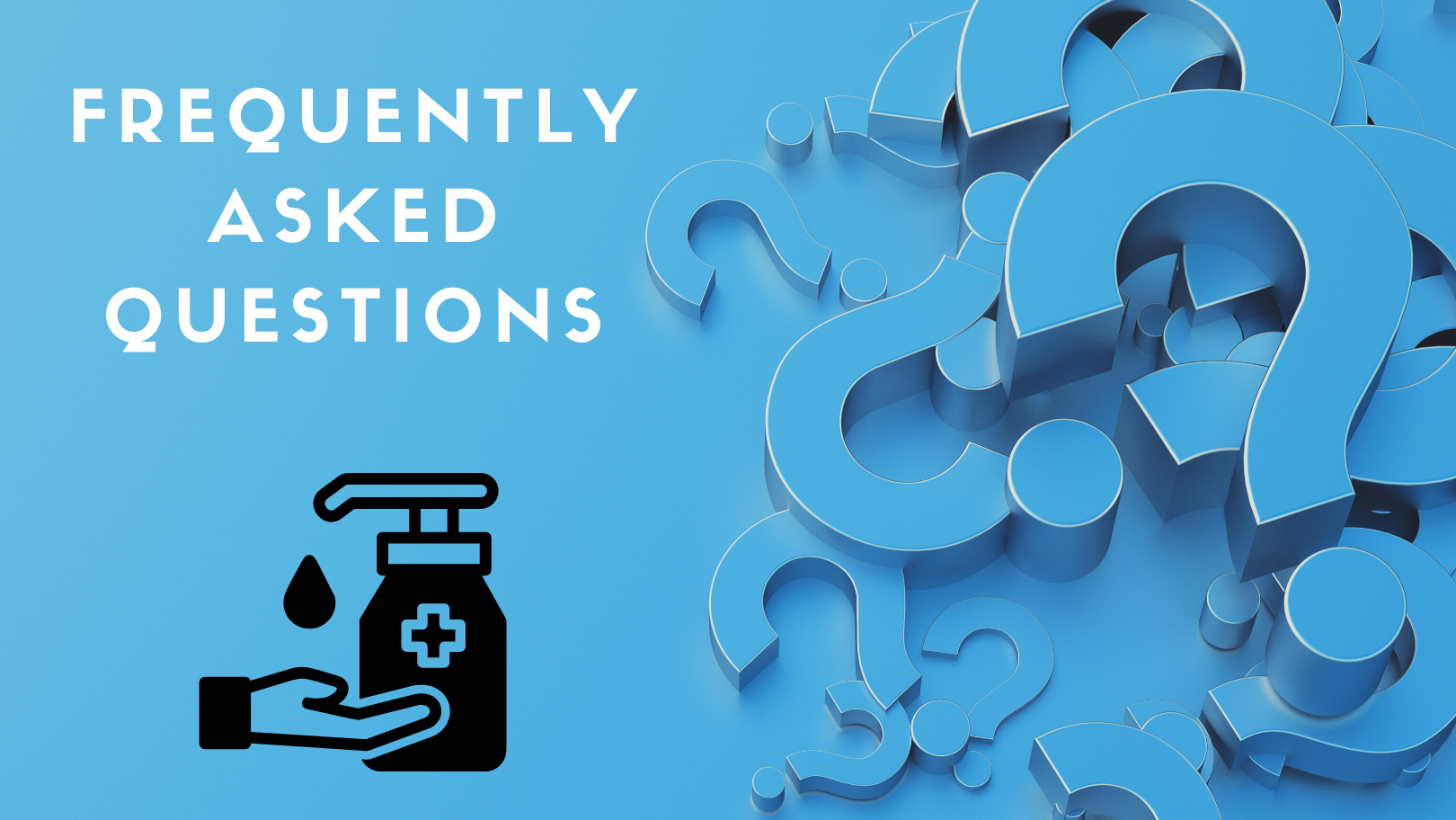 Do alcohol based hand sanitizers work?
Yes, alcohol based hand sanitizers can reduce the number of germs on the hands, but they do not
eliminate all types of germs. Soap and water are more effective than hand sanitizers at removing some
germs.

How much hand sanitizer is needed to clean your hands?
You will need to use about the size of a quarter. You will need enough sanitizer to cover all surfaces on
your hands, top, bottom, fingers, around fingertips and fingernails, and rub up your wrist.

How long do you rub your hands together when using hand sanitizer?
Rub your hands together for about 15-30 seconds, until your hands feel dry.

Do I have to wait for the hand sanitizer to dry on my skin?
Yes, rub your hands together until the sanitizer feels dry on your skin. Do not wave your hands around
because they can pick up microorganisms that are in the air.

How much alcohol content is required for hand sanitizers to be effective?
Hand sanitizers needs to have at least 60% alcohol to be effective. OBC's hand sanitizer is made with 70%
denatured ethyl alcohol.

What is denatured alcohol and why is it added to hand sanitizers?
Denaturants are additives added to ethanol to make it taste bad to discourage recreational consumption.
Denatured alcohol is also used in hand sanitizer to deter children from unintentional ingestion. Hand
sanitizer should always be kept out of reach of children and used with adult supervision.

What do I do if I get a rash or other reaction to the hand sanitizer?
Call your doctor immediately if you experience a serious reaction to any hand sanitizer.

Why is your hand sanitizer in the form of a liquid?
OBC's hand sanitizer is a water-like consistency so that is may be used in a spray bottle. Although it does
contain glycerin to prevent drying of the skin, it does not have some of the other ingredients required to
make it a gel like consistency.

Where can you ship to and can you expedite shipping?
We can ship anywhere in the continental United States. We can only ship using FedEx and UPS ground
options due to hazardous material restrictions on all hand sanitizers. We cannot expedite shipping as it
typically involves air transportation. Hand sanitizer is not allowed, per the Department of
Transportation, to be shipped utilizing air transportation.

Can I pick up hand sanitizer at the taproom?
Yes, our hand sanitizer is available in the taproom. We are open Monday through Thursday from 1pm to
6pm, and Friday and Saturday from 1pm to 7pm EST. Although not required, you can choose to pre-pay
your order online and select the "Pickup In Store" option under shipping.
**If you have any further questions, please feel free to contact us at 229-838-4779**